The Parkside Lounge
317 East Houston Street
New York City
Sunday, February 19th, 5pm
Very excited to kick off this new series with Mike Albo! Mike wrote a beautiful book called Another Dimension of Us that is described as "a thrilling science fiction story about teens from the past and future who travel to the astral plane to save the ones they love" — and I'll add that it's about the magic hive of a library when you are a queer teen; the mind-opening power of poetry; and desire and identity across 1986 and 2044 and throughout the astral planes.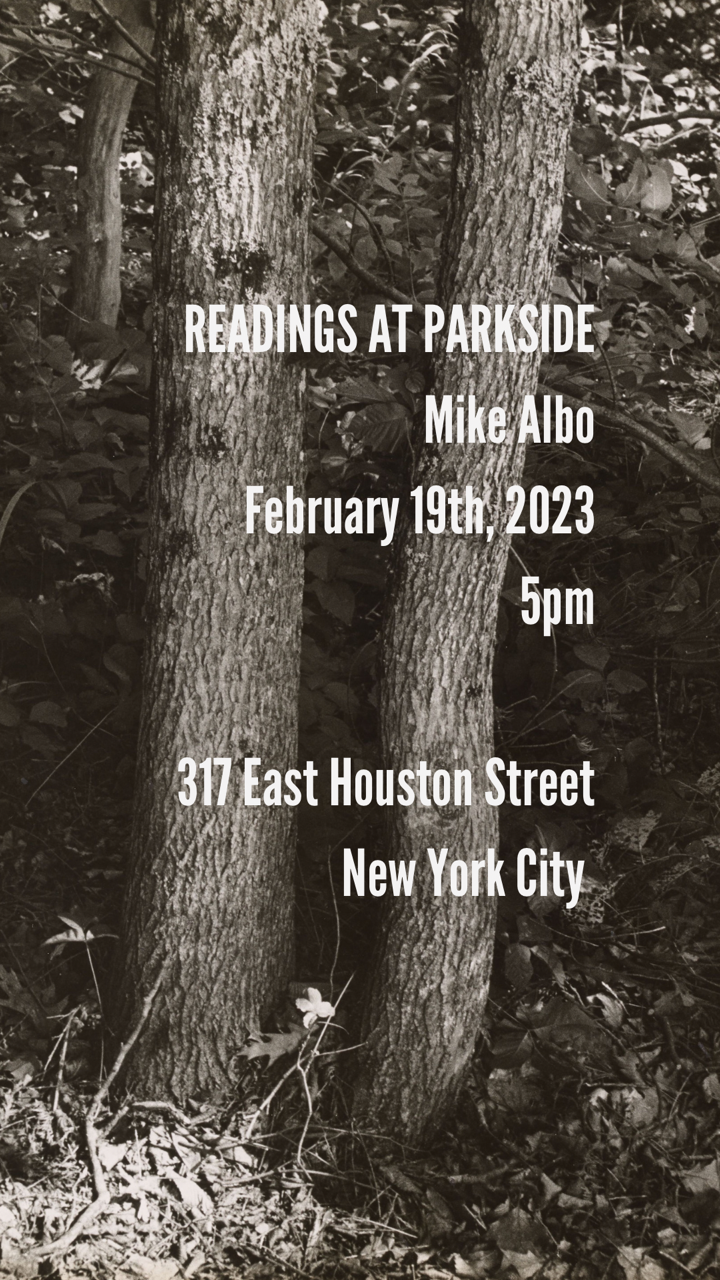 Mike Albo is the author of three novels,
Hornito
, considered one of the 50 Essential LGBT Works of Fiction by Flavorwire, and the cult classic
The Underminer: The Best Friend Who Casually Destroys Your Life
(written with Virginia Heffernan) and most recently
Another Dimension of Us
. His other works include the
The Junket
and
Spermhood: Diary of a Donor
.
He has written for the
The New Yorker, New York Magazine, GQ, Departures, W Magazine, TED, Elle Decor, Southern Living, AARP
and numerous other magazines and websites. He has written a horoscope column, a love advice column and was the Critical Shopper columnist for the New York Times. He has performed nine solo shows and comedy shows across the US, Canada, UK and Europe. His solo shows include
Spermhood: Diary of a Donor
and
The Junket
which ran Off-Broadway at the Lynn Redgrave Theater in 2014. He is also a part of the long-running comedy trio, Unitard, and the legendary dance collective, The Dazzle Dancers.
Selections of his performance work appear in
Extreme Exposure: An Anthology Of Solo Performance Texts From The Twentieth Century
(ed. by Jo Bonney).
from
Another Dimension of Us
Tommy was crying, holding his head in his hands, saying over and over that he should have kissed Renaldo Calabasas that night when he had the chance. It had been a week since Renaldo was struck by lightning. Tommy was sitting where it happened: under the charred tree in Hollow Pond Park, huddled into the base of the blackened trunk—the exact spot where they almost kissed. He wrote down his thoughts.

You are like smoke, a dark dance in the air.
No
.
You are a storm cloud, weightlessly heavy.
No
.
You are as mysteriously beautiful as black smoke.
No
.
A crow.
No.

A raven?
Tommy crossed out his words. He was such a shitty poet. He wasn't even a smidge as good as René. And his bad poetry couldn't match what he was feeling.

But he kept writing in the book. He had to. Renaldo Calabasas was lost in the astral plane, floating somewhere in its expanse. And it was the book that told Tommy that if he wanted to find Renaldo and bring him back to Earth, he had to write down how he felt. He had to get close to him in words, and the words would be his path to him.

The book told him to write it all out. The book. The book.